TRD855SIG-50 -
Ind. Grade CAT 5E Double Shielded RJ45 LSZH Patch Cord, 50.0 ft.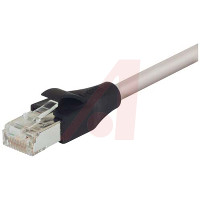 聲明:圖片僅供參考,請以實物為準!
制造商產品編號:

TRD855SIG-50

倉庫庫存編號:

70126228

技術數據表:

Datasheet
由于產品數據庫龐大,部分產品信息可能未能及時更新,下單前請與銷售人員確認好實時在庫數量,謝謝合作!
TRD855SIG-50產品概述
Category 5E RJ45 to RJ45 Shielded Low Smoke Zero Halogen Patch Cord, 26 AWG

These cords are a staple for terminating equipment in Industrial Ethernet environments. All cables are double shielded with foil and copper braid for full protection against EMI. 24 AWG solid conductors are used so that technicians can cut one end of the cord and terminate to 110 IDC connectors if necessary. We stock in full lengths up to 300 feet so that equipment runs can be pulled directly and simply plugged into either end. Gray riser (CMR) rated PVC jacket is extra durable for harsh environments. EIA568B wired.
RJ45 to RJ45 shielded low smoke zero halogen patch cord. These screened (shielded) patch cords are great for a variety of electrically noisy environments where EMI is an issue. They utilize two or four pair cabling covered by a foil or foil+braid shield.

TRD855SIG-50客戶還搜索了
參考圖片
制造商 / 說明 / 型號 / 倉庫庫存編號
PDF
參考庫存數
操作
TRD855SIG-50參考庫存及參考價格
60 can ship immediately.
有貨可于1-2周內送達
英國2號倉庫直銷,訂單金額100元起訂,滿300元含運,滿500元含稅運,有單就有優惠,量大更優惠,支持原廠訂貨
CNY
1889.76
| | |
| --- | --- |
| 數量 | 參考價格 |
| 1 + | ¥1889.76 |
| 5 + | ¥1814.15 |
| 10 + | ¥1705.37 |
超碰欧美在线观看,超碰在线观看欧美,超碰人人做人人爱网站,超碰在线国产福利,久久中文字幕无码专区,日本毛多水多做受视频