MD44FF -
Feed-Thru Adapter, Mini DIN 4, Female/Female, Gold Plated Contacts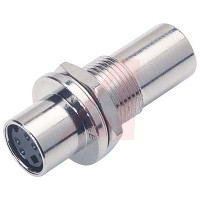 聲明:圖片僅供參考,請以實物為準!
制造商產品編號:

MD44FF

倉庫庫存編號:

70126396

技術數據表:

Datasheet
由于產品數據庫龐大,部分產品信息可能未能及時更新,下單前請與銷售人員確認好實時在庫數量,謝謝合作!
MD44FF產品概述
HyperLink Technologies's exclusive adapters offer a unique design suitable for panel mounting DIN and Mini DIN adapters. The D-flat design prevents mounted adapters from spinning and can be used with virtually any panel thickness. Connector styles available are Mini DIN 4, 6 & 8 (S-video, PS/2 & Macintosh) and DIN 5 (AT).





Wired straight through to pass signals through a panel or enclosure



Fully shielded to protect against EMI (electromagnetic interference)



Gold plated contacts provide reliable connections with repeated mating cycles



UL grade 94V-0 connector insulator satisfies flammability requirements



Available in Mini DIN 4, 6 & 8 and DIN 5connector sizes



Connectors are female to female







MD44FF客戶還搜索了
參考圖片
制造商 / 說明 / 型號 / 倉庫庫存編號
PDF
參考庫存數
操作



626 can ship immediately.

可于1-2周內送達
1 + ¥130.93
更多參考價格信息...



1734 can ship immediately.

可于1-2周內送達
1 + ¥220.7
更多參考價格信息...
MD44FF參考庫存及參考價格
59 can ship immediately.
有貨可于1-2周內送達
英國2號倉庫直銷,訂單金額100元起訂,滿300元含運,滿500元含稅運,有單就有優惠,量大更優惠,支持原廠訂貨
CNY
150.23
| | |
| --- | --- |
| 數量 | 參考價格 |
| 1 + | ¥150.23 |
| 5 + | ¥144.23 |
| 10 + | ¥135.51 |
| 25 + | ¥127.36 |
| 50 + | ¥117.21 |
超碰欧美在线观看,超碰在线观看欧美,超碰人人做人人爱网站,超碰在线国产福利,久久中文字幕无码专区,日本毛多水多做受视频