PXP6037/2M00 -
Ethernet Patchcord; Single-Ended; IP-Rated RJ Buccaneer - Shielded RJ45; 2m Cord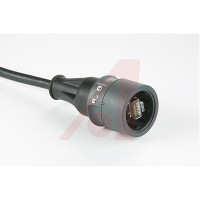 聲明:圖片僅供參考,請以實物為準!
制造商:

制造商產品編號:

PXP6037/2M00

倉庫庫存編號:

70266603

技術數據表:

Datasheet
由于產品數據庫龐大,部分產品信息可能未能及時更新,下單前請與銷售人員確認好實時在庫數量,謝謝合作!
PXP6037/2M00產品概述
Pre-Wired Patch Cord with plastic body overmoulded connector.

Features:


Water and dustproof to IP66, IP68, IP69K when mated with compatible connector

30 degree push twist locking, tamperproof lock prevents accidental un-mating

Supplied with shielded RJ45 plug

S-FTP cable construction

PUR jacket cable in a choice of lengths depending on part code

568-B wiring configuration

Exceeds EIA/TIA CAT5e

Available as IP rated RJ45 to Shielded RJ45 (PXP6037), IP rated RJ45 to IP rated RJ45 (PXP6038)

PXP6081 Sealing Cap available separately to maintain IP rating of unmated connectors

Mate with PXP6033TP, PXP6033TP/E Plastic Body Front Panel Mount CAT5e Couplers

PXP6037/2M00關聯產品
參考圖片
制造商 / 說明 / 型號 / 倉庫庫存編號
PDF
參考庫存數
操作



7 can ship immediately.

可于1-2周內送達
1 + ¥669.37
更多參考價格信息...



21 can ship immediately.

可于1-2周內送達
1 + ¥424.67
更多參考價格信息...
PXP6037/2M00參考庫存及參考價格
3 can ship immediately.
有貨可于1-2周內送達
英國2號倉庫直銷,訂單金額100元起訂,滿300元含運,滿500元含稅運,有單就有優惠,量大更優惠,支持原廠訂貨
CNY
630.35
| | |
| --- | --- |
| 數量 | 參考價格 |
| 1 + | ¥630.35 |
| 10 + | ¥554.74 |
| 20 + | ¥488.13 |
| 50 + | ¥400.23 |
超碰欧美在线观看,超碰在线观看欧美,超碰人人做人人爱网站,超碰在线国产福利,久久中文字幕无码专区,日本毛多水多做受视频