930-104P-51A -
connector, rf coaxial, qma right angle cable plug, , for 0.085 semi-rigid cable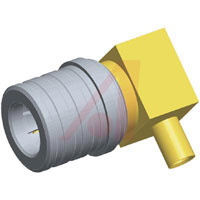 聲明:圖片僅供參考,請以實物為準!
制造商產品編號:

930-104P-51A

倉庫庫存編號:

70141731

技術數據表:

Datasheet
由于產品數據庫龐大,部分產品信息可能未能及時更新,下單前請與銷售人員確認好實時在庫數量,謝謝合作!
930-104P-51A產品概述
QMA 50 Ohm R/A Plug

Amphenol RF's QMA connector series is a quick disconnect version of the SMA connector.\~Instead of using a threaded coupling mechanism, a new snap-lock mechanism is used.\~This allows the QMA series to maintain very similar electrical performance, while providing the additional benefits of quicker installation and denser packaging solutions for your RF requirements.

Features:

Operates at the Same Electrical Performance as SMA Up to 6 GHz

Snap-On Interface for Quick and Easy Installation (Can Be Installed 10 Times Faster Than SMA)

Snap-Lock Mechanism Removes Requirement for Wrench Clearance, Allowing for Denser Packaging

Rotatable 360° After Connection for Flexibility with Installation

Applications:

Base Stations

Instrumentation

Process Controls

Cable Assemblies

Mil/Aero

Telecom

Components

PC/LAN

930-104P-51A參考庫存及參考價格
0 can ship immediately.
1 can ship in 10 days.
有貨可于1-2周內送達
英國2號倉庫直銷,訂單金額100元起訂,滿300元含運,滿500元含稅運,有單就有優惠,量大更優惠,支持原廠訂貨
CNY
166.24
超碰欧美在线观看,超碰在线观看欧美,超碰人人做人人爱网站,超碰在线国产福利,久久中文字幕无码专区,日本毛多水多做受视频