227-T2000 -
Installation/Removal Tool; 12-in.; Steel Shaft/Resin Handle; for HD-BNC Connectors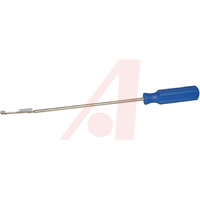 聲明:圖片僅供參考,請以實物為準!
制造商產品編號:

227-T2000

倉庫庫存編號:

70039768

技術數據表:

Datasheet
由于產品數據庫龐大,部分產品信息可能未能及時更新,下單前請與銷售人員確認好實時在庫數量,謝謝合作!
227-T2000產品概述
Amphenol offers a full line of BNCs in a multitude of options. From 50 O to 75 O Impedance, Commercial to Military grade, BNC connectors are miniature, lightweight and reliable. A full line of printed circuit board receptacles, bulkhead receptacles, reverse-polarity connectors, resistor terminations, and other accessories complement the product offering.

Features:

Bayonet coupling mechanism provides positive, quick mating and un-mating

50 ? and 75 ? impedance designs allow customers to match impedance to system requirements

Connectors are available for military, industrial and commercial applications

Applications:

Antennas

Broadcast (75 ?)

Telecom

Automotive

Computers/LANs

Medical Equipment

Base Stations

Cable Modems

Instrumentation

Mil-Aero
227-T2000關聯產品
參考圖片
制造商 / 說明 / 型號 / 倉庫庫存編號
PDF
參考庫存數
操作



0 can ship immediately.

120 can ship in 10 days.

可于1-2周內送達
100 + ¥603.34
更多參考價格信息...
227-T2000客戶還搜索了
參考圖片
制造商 / 說明 / 型號 / 倉庫庫存編號
PDF
參考庫存數
操作
227-T2000參考庫存及參考價格
5 can ship immediately.
578 can ship in 10 days.
有貨可于1-2周內送達
英國2號倉庫直銷,訂單金額100元起訂,滿300元含運,滿500元含稅運,有單就有優惠,量大更優惠,支持原廠訂貨
CNY
1452.66
| | |
| --- | --- |
| 數量 | 參考價格 |
| 1 + | ¥1452.66 |
| 10 + | ¥1379.48 |
| 25 + | ¥1244.98 |
| 50 + | ¥1097.04 |
超碰欧美在线观看,超碰在线观看欧美,超碰人人做人人爱网站,超碰在线国产福利,久久中文字幕无码专区,日本毛多水多做受视频