172204 -
connector, rf coaxial, n str crimp jack, captive cont, for rg174, 316, LMR100, 50 ohm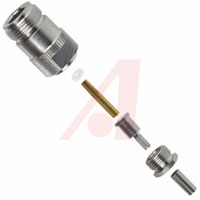 聲明:圖片僅供參考,請以實物為準!
制造商產品編號:

172204

倉庫庫存編號:

70031794

技術數據表:

Datasheet
由于產品數據庫龐大,部分產品信息可能未能及時更新,下單前請與銷售人員確認好實時在庫數量,謝謝合作!
172204產品概述
50 Ohms Impedance, 5000 Megohms (Min.) Insulation Resistance, Type N Coaxial Connector

Connex N connectors with screw coupling are fully interchangeable with N connectors made to the MIL-C-39012 specification. Designed for use in all systems where very good R.F. and mechanical performance is critical, whether it be at low or high frequencies. Elimination of all nickel plating on N series connectors has gone a long way to solve intermodulation problems. Nexcote is Connex' trade name for the popular white bronze plating. 50 ohm nominal impedance will achieve a VSWR of 1.3 maximum from 0 to 11 GHz.
Brass body material with nexcote finish. 50 Ohms impedance. 1500 Vpeak operating voltage.

172204產品配件
參考圖片
制造商 / 說明 / 型號 / 倉庫庫存編號
PDF
參考庫存數
操作
172204客戶還搜索了
參考圖片
制造商 / 說明 / 型號 / 倉庫庫存編號
PDF
參考庫存數
操作



346 can ship immediately.

可于1-2周內送達
1 + ¥57.75
更多參考價格信息...
172204參考庫存及參考價格
0 can ship immediately.
有貨可于1-2周內送達
英國2號倉庫直銷,訂單金額100元起訂,滿300元含運,滿500元含稅運,有單就有優惠,量大更優惠,支持原廠訂貨
CNY
141.51
超碰欧美在线观看,超碰在线观看欧美,超碰人人做人人爱网站,超碰在线国产福利,久久中文字幕无码专区,日本毛多水多做受视频