AIO-CSJM12 -
Cable Gland, Metal, M12x1.5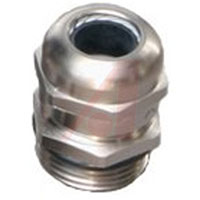 聲明:圖片僅供參考,請以實物為準!
制造商產品編號:

AIO-CSJM12

倉庫庫存編號:

70254268

技術數據表:

Datasheet
由于產品數據庫龐大,部分產品信息可能未能及時更新,下單前請與銷售人員確認好實時在庫數量,謝謝合作!
AIO-CSJM12產品概述
Amphenol® Industrial Global Operations introduces a series of commercial liquid tight cable glands available both with Metric and PG threads, Metallic and Non-Metallic. These glands are suitable for a wide range of applications from manufacturing machinery to measurement and control equipment, like automation and robotics. These glands can connect to Amphenol Industrial Global Operations circular products with adaptors or be used individually. The commercial cable glands have been successfully used at major OEMs.\ Features:
Complete line of Metal and Nylon Industrial cable glands available
Entry threads range from PG7 through PG48 and M12×1.5 through M90×2
IP68 Rated
Temp Range: –20°C to +105°C
UL 94V-2 approved material
AIO-CSJM12客戶還搜索了
參考圖片
制造商 / 說明 / 型號 / 倉庫庫存編號
PDF
參考庫存數
操作



172 can ship immediately.

可于1-2周內送達
1 + ¥34.02
更多參考價格信息...



125 can ship immediately.

可于1-2周內送達
1 + ¥77.76
更多參考價格信息...



185 can ship immediately.

200 on order.

可于1-2周內送達
1 + ¥77.76
更多參考價格信息...
AIO-CSJM12參考庫存及參考價格
56 can ship immediately.
300 on order.
有貨可于1-2周內送達
英國2號倉庫直銷,訂單金額100元起訂,滿300元含運,滿500元含稅運,有單就有優惠,量大更優惠,支持原廠訂貨
CNY
67.76
| | |
| --- | --- |
| 數量 | 參考價格 |
| 1 + | ¥67.76 |
| 10 + | ¥55.46 |
| 50 + | ¥50.75 |
| 100 + | ¥46.89 |
超碰欧美在线观看,超碰在线观看欧美,超碰人人做人人爱网站,超碰在线国产福利,久久中文字幕无码专区,日本毛多水多做受视频