NPI-19B-172GH -
Pressure Sensor; 1700 kPa; Gauge; ConstantCurrent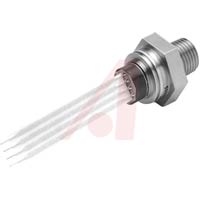 聲明:圖片僅供參考,請以實物為準!
制造商產品編號:

NPI-19B-172GH

倉庫庫存編號:

70237982

技術數據表:

Datasheet
由于產品數據庫龐大,部分產品信息可能未能及時更新,下單前請與銷售人員確認好實時在庫數量,謝謝合作!
NPI-19B-172GH產品概述
NovaSensor® Medium Pressure Sensor NPI-19 Series
The NovaSensor® NPI Series incorporates state-of-the-art IsoSensor technology, which gives the OEM user the best in price and performance. They are designed to operate in hostile environments and yet give the outstanding sensitivity, linearity, and hysteresis of a silicon sensor. The piezoresistive sensor chip is housed in a fluid filled cylindrical cavity and isolated from measured media by a stainless steel diaphragm and body. As with all NovaSensor® silicon sensors, the NPI Series employs SenStable® processing technology, providing excellent output stability.
Features:

Solid-State, High Reliability

316L Stainless Steel, ISO Sensor Design

±0.5% Static Accuracy

Temperature Compensated 0°C to 70°C (32°F to 158°F)

125 mV Typical FSO on Current Version

75 ±1 mV FSO on Voltage Version

Thermal Errors Less Than 2% FSO

0.74" (19 mm) Diameter × 0.28" (7.1 mm) Long Cylinder with O-Ring Seals
NPI-19B-172GH關聯產品
參考圖片
制造商 / 說明 / 型號 / 倉庫庫存編號
PDF
參考庫存數
操作
NPI-19B-172GH參考庫存及參考價格
0 can ship immediately.
有貨可于1-2周內送達
英國2號倉庫直銷,訂單金額100元起訂,滿300元含運,滿500元含稅運,有單就有優惠,量大更優惠,支持原廠訂貨
超碰欧美在线观看,超碰在线观看欧美,超碰人人做人人爱网站,超碰在线国产福利,久久中文字幕无码专区,日本毛多水多做受视频